Dementia has many symptoms such as loss of memory and communication difficulties. While we know there is currently no cure, there is positive evidence that when Caregivers incorporate activities such as Reminiscence Therapy into their support and care, they provide relief and joy to Elders living with a dementia.
One Reminiscence Therapy activity is to create a 'This Is Your Life' book. The book is a visual diary which chronologically documents an Elder's meaningful life moments, similar to a family photo album. This book can include photos, letters, postcards and certificates. Reminiscence therapy helps facilitate connection and communication between a Caregiver and Elder, as well as creating a connection between the present and the past.
As our Caregivers mainly provide in home care, they are fortunate to be able to draw on items that are found on their mantel piece, bookshelf or dresser. However, when they are visiting a client in a Nursing Home these personal items are not readily on display so a 'This is your Life' book is very helpful.
To create a 'This Is Your Life'* book and other memorabilia for your Elder, Loved One or client: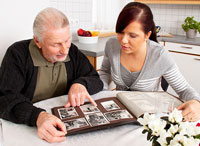 Make a chronological history of the person with dementia to help with reminiscence and to provide information for others who may interact with them.
A large photo album with plastic protective sheets over each page will last well. Each photo needs to be clearly labelled with people's names, place or event so the person diagnosed with a dementia can read them. This avoids putting the person with dementia on the spot with questions such as "Who is that?".
It is best to limit the information on each page to one topic and to have a maximum of two or three items on each page.
The following list may help in getting a book started:
Past homes / houses and locations lived or holidayed in


School days and college or university friends


Occupation and war service


Hobbies and interests


Holiday snapshots and postcards


Letters, certificates, diagram of family tree and short stories about specific events

Full name and preferred name

Place and date of birth

Photographs of mother, father, brothers and sisters and other family members (including loved pets) with names inscribed against the items


Photographs of spouse and wedding day


Photographs with names and birthdays of children and grandchildren, ideally showing them doing a favourite activity (cricket, chess, spelling bee, ballet etc)

Do you use reminiscence therapy when supporting and enabling Elders?
Can you share a time reminiscence therapy worked really well for you and your client (no names) or your parent in the comments below.
Source: Information on 'This Is Your Life' book sourced from: Alzheimer's Australia