Kylie (also known as Kate) Lambert spoke with Australian Financial Review to discuss and share her passion on Elder care. She expresses valuable insight into the aged care industry and the importance of great Care Workers. Furthermore, we get a glimpse of the story of Daughterly Care and the future of Elders and the greater aged care community.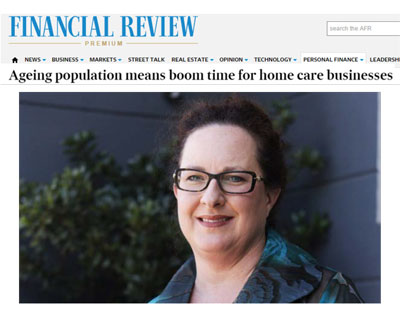 A summary of the article:
The growing aged care industry will increase the workforce and Australian Financial Review asked Kylie, what her opinion on the current conditions are. Kylie states, Daughterly Care was "born of frustration and grown with loving care", which you can read more about the story of how Daughterly Care came about.
Elderly Australians will increase in population, as well as the number of people living with dementia. Kylie continues to say, one of Daughterly Care's focuses is dementia and how Care Workers or Caregivers can be equipped with valuable skills and knowledge to provide exquisite in Home Care.
Lastly, Kylie states:
"We knew older people wanted to stay in their own home and that sometimes they just needed a few hours of help and sometimes they needed a lot more – like our flat-fee live-in care service or 24-hour care."
To sign-up for a subscription, click here.
Kylie Lambert was interviewed by Bina Brown.
Daughterly Care has cared for the Elderly and people living with dementia throughout its 21 years of operation. We continue to gain knowledge so our Caregivers can care with a truly unique and professional manner so Elders can stay at home, for life! Hear from our care recipients who have taken-up our services and if you are interested in engaging with us, view the type of services we provide.