Elder loses 46% of her Government Funding in Approved Provider Fees.
This lovely mother and grandmother, we'll call her Mary, was struggling to live well with just 3 hours a week of in home care from her Government Funded Approved Provider of in home care. Mary sent me a number of her Monthly Home Care Statements so that I could see where her Government Funding was going.
The Old-School Approved Provider was taking a whopping 46% of the Government Funding for their administration and case management fees.
That's almost half the funding gone every month before $1 is spent on care!!!!!!!!!!
I have to say that I was surprised by this high rate of fees as we are well into the Consumer Directed Care Reforms and I have seen Old-School Approved Provider fees reduced to a more competitive level thanks to competition from the New Breed of Approved Providers, like Daughterly Care Community Services.
Let's have a look at Mary's June 2017 statement and you can see for yourself:
| | |
| --- | --- |
| Administration fee | $330 |
| Core Advisory Fee | $120 |
| Case Management Fee | $105 |
| Total fees for June 2017 | $555 for 30 days |
This $555 for the month represents 46% of all the June 2017 Government Funding of $1,202.70 for 30 days of care.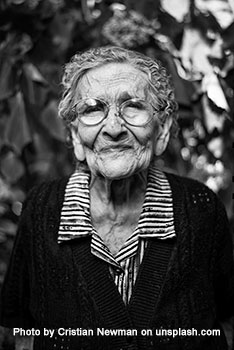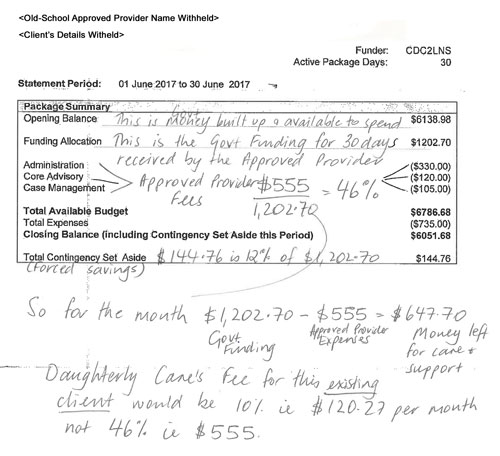 Plus the Old-School Approved Provider had set aside $144.76 being 12% of the Government Funding as a Contingency Fee (even though the maximum Contingency Fee allowed by the Government is 10%)
A contingency fee is not an actual fee that is deducted and lost forever, rather, it is your money which has been quarantined, or set aside for your future use, as needed. However when a Contingency Fee is set aside it's NOT there for you to spend now. Think of it as forced savings for future increased care needs.
What I don't like about Contingency Fees is that:
1. It assumes you have to be forced to save for your future care needs and deprives you of the money NOW for your CURRENT care needs. What if you already have your own money saved for increased care needs? What if you need as much care as possible now? What if that extra help now will help rehabilitate you?
2. Old-School Approved Providers have told Elders things like "we need to keep 10% in case you don't pay your fees". Everyone is guilty until they prove themselves innocent!
Very few Approved Providers charge their clients a Core Advisory Fee plus a Case Management Fee. It's more often one or the other, rarely both.
So if we take the Government Funding for June 2017 – less the Old-School Approved Provider fee of $555, that leaves $647.70 for 30 days' care.
By comparison, Daughterly Care Community Services would charge 10% pa, not 46 %pa, (because they're an existing client of Daughterly Care) so our total fee would be 10% pa of the Government Funding i.e.$1,202.70 = $120.27 which leaves $1,082.43 available for support/care over 30 days.
The award for Caregivers increased from 1 July 2017 so all of the Approved Providers of Government Funded Packages are in the process of increasing their care fees. Our fee has increased from $53 to $55 and will not be reviewed again until 1 July 2018.  So with our increased care fee of $55 per hour the client would be able to afford $1,082.43 divided by $55 per hour = 20.42 hours of care for the month compared to the 12 hours they have been receiving.
So the client would be able to receive 8 more hours of care every 30 days with Daughterly Care Community Services than if they stay with their Old-School Approved Provider, without paying a cent extra.
This client will be financially better off transferring their Home Care Package to Daughterly Care Community Services.
Their life would be more simple as they just deal with us, not with us and another Approved Provider.
We have very good quality Caregivers, that is our point of difference.
We provide a lot of care and support on the Lower North Shore where the client lives.
What is this opening balance of $6,051.68?
As at 30 June 2017 the client had $6,051.68 of UNSPENT FUNDING available to spend on their care. This transfers in full to Daughterly Care for the client to use and we don't charge any fees on this transferred balance EVER as we know the Old-School Approved Provider has already taken 46% of the Government Funding that it came from.
Some other points to note are:
1. This client is a "continuing care client" which means the Home Care Package started prior to 1 July 2014, which means the client never has to pay an Income Tested Care fee, even if they are a self-funded client as they had a package before the Income Tested Care Fee was introduced.
As long as Mary transfers within 28 days and never takes a break exceeding 28 days from the Home Care Package, she will RETAIN this discount status, which will continue to save her $10,552.18 pa. We normally do a next day transfer, so the 28 day rule is not an issue for Mary.
2. The Old-School Approved Provider signed Home Care Agreement dated 22 August 2016 makes no mention of an EXIT FEE, therefore the client cannot be charged an exit fee for transferring to Daughterly Care Community Services.
3. The Old-School Approved Provider signed Home Care Agreement mentions that the client will pay a $132.02 Daily Care Fee, per fortnight, however the Monthly Statement for June 2017 does not show any basic care fee being paid by the client. Accordingly, Daughterly Care would NOT charge a Daily Care Fee ever.
Mary losing 46% pa of her Government Funding in fees is far from ideal.
If you would like to have Daughterly Care Caregivers and you are not entirely happy with your existing Old-School Approved Provider – send me your statements and I will tell you what I see financially and then you can make an informed decision that is best for you.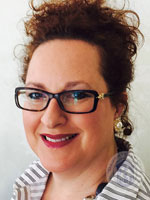 Kate Lambert
B.Ec F.Fin
Daughterly Care CEO & Co-Founder